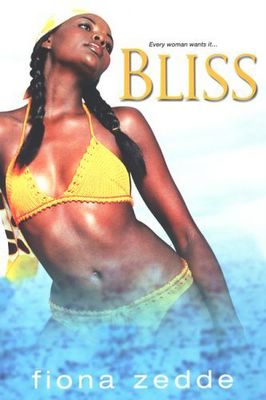 This is the cover of one of my Kensington labelmate's books, Bliss, by Fiona Zedde. It'll be out in August.
The cover totally reminds me of summer... laid back days at the pool, or finding your passion, being outdoors, creating fun summer storylines for yourself.
On my last night in New York City, Brooklyn to be exact, I was at a little gathering with friends Eric, Preston, Mark, Roberto, and me. Daiquiris. Warm weather. Lots of fun conversation, reminiscing on life in our early 20s, when we were all in college, and how fun the summer were. How we'd all just do WHATEVER, WHENEVER, and with WHOMEVER. Life was fun. Full of promise. No worries about real world issues. When everyone was a potential friend, mate, lover, or all of the above. Fun times.
Then Mark suggested that we can still have that BLISSFUL summer again. At least for 2005. When we just let go. Enjoy the company of new and old friends. But more importantly, make sure we have fun stories and dalliances to reminisce on at the end of summer. Since they're all East Coast, they're heading all up and down the coast and to Puerto Rico, Dominican Republic, and other fun islands for their summer of bliss. I've got book stuff, but will be traveling and meeting new, cool people too.
I think we should take it back this summer. Live life and this summer like we were 18 or 21 again. Have fun. Safe fun. And bring back tons of fun stories to tell by the end of Labor Day weekend in September.
I'm ready. Are you? :-)
fs