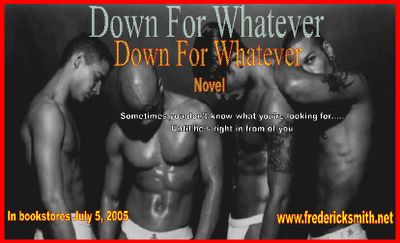 Uh-hem, now that I have your attention...
These little hotties, err..., I mean cards have been floating around L.A. and in cyberspace.
Apparently I have a "fan" who made these and has been passing them out at clubs and on e-mail. Another friend got this in his e-mail box today and e-mailed me. It's hot. Imagine if this was my book cover. They say sex sells, and well... this would light the flames under most demographics, huh?
So who are you, mystery fan? Are you friend or more-than-friend wannabe? I bet you're cool. Well, whoever you are... I love it... and I hope you are doing this for free, and with no expectation of a payback. That you're just a supporter.
All I wanna know is which one is Rafael? Keith? Tommie? Marco Antonio? Those are the main characters in Down For Whatever.
fs