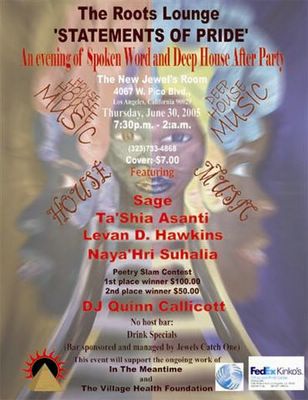 If you're coming to L.A. next week for
Black Pride
, try to check out the spoken word event listed above.
This information I picked up last night at a reading and signing event I did with the
In The Meantime Men's Group
, which meets on Tuesday evenings at
Jewel's Catch One
on Pico. Great crowd of about 25 people, including Jeff,
Ivan
, Clive, Sam,
Trent
, Preston, Roger, Earl, Dan, Kevin, David... among others. Real cool night and group. And just like me... I forgot m'darn camera!
I introduced each of the four main characters, read excerpts from each one, and then we had discussion. Cool discussion.
Number one question: Which one is me? (None of them, I swear... but
everyone thinks writers are writing about themselves
...)
But other discussion focused on Black and Brown dynamics in L.A., especially LGBT Black and Brown dynamics, and if our experiences are the same, different, overlap, never shall meet, etc... Asked about the publishing process, and how does NYC perceive L.A.... Talked about racism and classism in the LGBT community and how all those topics relate to the characters in the book. Great conversation topics. That's what's cool about books... everyone has different perceptions that get triggered by what they read.
Oskar and Daniel, my marketing and publicity people in L.A., were with me. Cool and funny as always. Ready with their list of feedback about my reading afterwards.
Overall, a great night. And I thank Jeff, Clive, Sam, Jewel, and everyone else associated with In The Meantime Men's Group. You hosted a great evening and are doing great work for the community.
fs