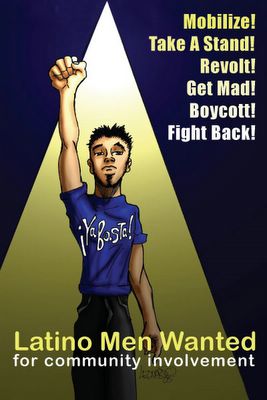 What a great kickoff to a summer of events and readings!
Met with a nice and intimate group of about ten people who were attending the weekly Latino Men's Group at
The Wall-Las Memorias Project
. The graphic above is from their new campaign advertising their Latino Men's Group. "Basta," for those of you learning Spanish, means to fight back, stand up, enough already.
Most of the guys had read the
first chapter
of Down For Whatever on my website, so they were chock full of questions, observations, and funny stories. Kept me on my toes. We had a great conversation.
I love it when people ask questions because they want to know something, not because they're pushing an agenda. The guys wanted to know everything -- how does the publishing industry work, why aren't there many contemporary Latino/a writers published (had to school them on
Alisa Valdes Rodriguez
, who's leading the pack these days, and whom none had heard of), gay actors versus straight actors playing gay roles in film and tv, my writing process, and how I was able to write (with some realism, thank God I got the group's approval) strong Latino characters. Great questions and great conversation. We laughed a lot.
For those of you in the L.A. area, The Wall-Las Memorias Project is one of several community agencies working toward educating the community about HIV and AIDS prevention, making good choices, and being proud of their ethnic, sexual orientation, and class identities. The Wall-Las Memorias focuses most of its energy on the Latina/o community, though it's open to all who walk in the doors. The organization's big project was building a
monument
in L.A. dedicated to Latina/o people who've died to AIDS and HIV-related illnesses.
Thanks Enrique, Eddie, Richard, Ozzie, and the rest of the folks at The Wall for inviting me to meet with the group and talk about Down For Whatever. You really made me feel welcome and really made my summer start off on a great note!
fs